Article by: Kathleen LaPalme
Look at these shiny, smiling faces!  You can see how much they just love acro and what close friends they are!   According to Jorden, "Being friends makes it easier to work with each other".
Congratulations to the newly formed Youth Acro Trio consisting of Ella, Jorden, and Peyton on being selected as Athletes of the Month!   This Acro Youth Trio keeps the atmosphere of the gym bright and positive, even when the conditioning gets hard.   Coach Alyssa says, "They are always "ON"!  They come to work hard and improve themselves as a group and as individuals."
The Acro Trio has only competed together twice.  The 1st Ontario cup, which was held at Oakville Gymnastics Club, was their most memorable competition since it was their first time competing together.  They did really well, but Coach Alyssa was more impressed by their performance off the floor.  
"In competition, they show the sportsmanship that we as acro coaches are proud of.  They clap and cheer for not only our club but for the other clubs they compete against and to the kids who are below them in level. They are not shy to talk to other athletes and coaches from other gyms and they always walk around with big smiles on."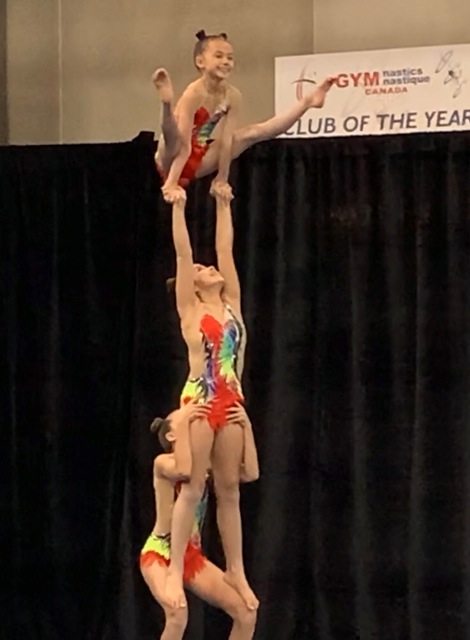 Each member of the trio brings something unique to the partnership which when brought together is a recipe for success!   Jorden, a base, is a strong, easy-going leader with the ability to hold the group together with her motivation and desire to learn new skills.   Ella is a spirited, driven, hard-working top that never quits. Last but not least, Peyton, a base, is a diligent good-natured athlete who sparkles when she performs.  
Jorden is 12 years old and in Grade 7.  Her favorite subjects are Math and Art.  She loves to sketch and is interested in playing the ukulele.  Jorden watched her brother doing acro and it made her want to try out for acro as well. 
Ella is 9 years old and in Grade 4.  Peyton describes her as "tiny and mighty, with a little side of sass". Her favorite subject is Math.  Outside of acro she plays the piano, andlikes to read and play with her dog "peanut".  She did a summer camp at OGC and was invited to try out for Acro.  
Peyton is 13 years old and in Grade 8.  She was a competitive athlete in WAG before moving to ACRO. Her favorite subject is Art and enjoys skiing, cottage life, and hanging out with her friends.
April's 4th Vegas Acro Cup competition was to be another great adventure and an exciting opportunity for Ella, Jorden, and Peyton.  Despite the time away from each other and from training at the gym, the girls know how to stay positive and strong.  Right now, we would all benefit from one of the trio's pep talks to keep us productive! 
The season may have been cut short, but they remain motivated to do the best they can, even in these unprecedented times.  OGC's acro family is incredibly proud of how far they have come and excited to see how much further they will go!