In a gym full of athletes that are always pushing the limits and achieving great personal and athletic successes, how does one stand out?   Sometimes it's an amazing win, sometimes it's the attainment of a difficult skill or overcoming a seemingly insurmountable obstacle.  For twelve year old Emily Kalbfleisch, it's unwavering work ethic.
Over the last few months, the WAG coaching staff couldn't help but notice how hard this humble grade seven student from the 16 hour, Level 5 Compulsory group has been working.  "She comes to all practices ready to train with 100% effort each and every day," says coach Shannon.  And when she's done in the gym, she goes home to continue working on her flexibility because she isn't satisfied with her pike stretch in particular.  As a result of this focus and dedication, Emily, who only began competitive gymnastics two years ago, has progressed from level 3 to level 5.  Shannon sees the determination in Emily's eyes every single day and really likes how Emily is a great team player who always motivates and supports her teammates while being very respectful in the gym. She is a great role model for other athletes.
Like most gymnasts, Emily started out in a recreational program for fun.  After several sessions at Schlegels, she came to OGC and completed another session before deciding to try out for the competitive team.  In spite of what is often considered a late start for the competitive side of the sport, Emily was determined to make the team so that she could learn to do an arial and back handspring because they don't teach those skills in the rec programs. However, these were short lived goals.  She taught herself the arial at home in preparation for the competitive tryout, which made her stand out from the other hopefuls, and then promptly learned the handspring within the first few practices after joining the team.  "I work hard because I really love gym," Emily says.  "If you work hard, it will be fun and it will pay off," she adds.   With this kind of attitude, coaches couldn't help but recognize the determination and focus of this young athlete, and they have happily helped her master all of the skills required to progress to Level 5, which she will compete this year both at home, and at the California Grand Invitational.
Last year, Emily competed at Level 3 and had a remarkable year!  She qualified for Provincials where, with some urging, she modestly admits she "did pretty well".  In this instance, that means finishing fourth overall with a very strong silver medal performance on bars – pretty well indeed!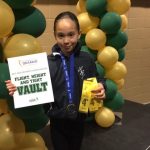 With such a successful progression thus far, Emily is looking forward to the upcoming season with the goal of "staying on the beam more" and she advises other athletes to "always believe in yourself.  It doesn't matter how long you've been doing this or if you're struggling, just remember how much you have already accomplished."
In her opinion, one of Emily's greatest achievements to date is rope climb in pike, because it's hard and by being able to do it, she knows she is really strong.  Her next challenge is to do it in straddle.  While she may struggle with that for a while, she looks to the challenge with positivity.  When she struggled to get her kip-cast to handstand, she made use of the coach's spot to help get her through it.  She also motivated herself to keep trying by reminding herself once again how much she had already learned and achieved in only two years, and that helped her to believe in herself and gave her the confidence to keep pushing forwards.
Emily's favourite event is floor.  She loves tumbling and working choreography so that she "can express her personality".  In the past, she was involved with dance, specifically jazz, and she loves to choreograph dance routines with her friends and family in her free time. If she weren't a competitive gymnast, Emily thinks there is a possibility that she would still be in dance, but she chose competitive gymnastics over competitive dance and does not regret it.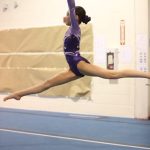 And what do her parents think about what Emily is doing? They love it!  "We are so proud of Emily," says mom, Jan. Dad, Jeff is happy both Emily and her sister, Abby train together.  "It's their passion," he says.  "We believe in following your passions.  If you like it, pursue it to the best of your ability."  Emily has definitely taken that sentiment to heart!  "They are a really close knit team, too", Jeff adds. "It's just great."
Jan loves that her daughter is getting exercise and becoming strong, both physically and mentally.  "They are facing fears and learning that you get what you earn. They can measure their progress and set goals."  She also points out that the girls are learning to value strength and health over skinny and developing positive body images.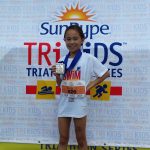 Emily agrees with both her parents and she was pretty proud when on a field trip, there was a rope in a barn that only she could climb. "My friends think I'm really strong," she says with a big smile.
An avid reader, Emily is currently finishing the Twilight Series.  In her free time, she loves to play with her cockapoo puppy, Cocoa and to spend time with her family playing board games or having a Family Movie Night with popcorn.
Not surprisingly, this well spoken and composed gymnast is a very good student and active in several activities outside of the gym.  At school, she plays the clarinet and participates in track and field, competing in relay, 200M, long jump and triple jump.  She also competes in junior triathlons in the summer, which she loves not only because she gets to run, swim and bike with her parents and sister, Abby, (who also trains in the 16 hour group,) but because she gets to push herself.  Her favourite part though?…The buffet at the end!
While this was only my first time meeting Emily and her family, I truly enjoyed the experience.  She is a mature, thoughtful and intelligent individual with a strong work ethic and quite frankly, she is just a really nice kid who seems to have all of the qualities that will lead to success not only in gymnastics, but in anything else she sets her mind to.  Keep your eyes open for Emily Kalbfleisch.  She is only just beginning, but I think we are going to see great stuff from this young lady!
Fast Facts:
1) One word to describe you: Hardworking  – Her sister agrees.  "She's probably one of the hardest workers in the group."
2) Favourite Movie:  Doesn't have one, but likes Action and Comedy
3) Favourite Song: Eastside by Benny Blanco, Halsey and Khalid
4) Favourite Food: Mangos – Her Grandma gives her crates of them as gifts!
5) Favourite Outing: Movies or a Raptors Basketball Game
6) Favourite Gym Skill: Arials
7) Favourite Dismount: Punch front tuck