Broken, but Never Beaten
The Freya Stevenson Profile
Gabby Douglas has been quoted, having said, "Hard days are the best; that's when Champions are made".   With those famous words in mind, imagine this:  The high of finishing the 2019 season as the Level 8 Silver Medalist for both Provincials and Easterns; tying your teammate for first, (but being bumped to second, "Arghh!")  at one of the biggest meets in the USA, "Chicago Style"; and finally, closing out the season by claiming the Costa Rican Copa Estrellas title with your best scores of the season and an amazing AA score of 38.15.  What a season you've had!  You start to set your goals as you do at the end of every season, being the humble perfectionist that you are.  You give your all without complaint every single day at training, preparing for Level 9 and the podium finishes you know you can achieve at both the foreign and domestic competitions you will attend with your teammates.  You follow a healthy, paleo diet without sugar or wheat, while your school friends guzzle down your beloved but restricted Starbucks and  regularly indulge in your favourite cheat/treat meal…pasta and garlic bread.  You make all the sacrifices and do everything you're supposed to with the attainment of those goals in mind.   And then, in an instant, everything you have imagined and planned for the year to come is simply…gone.  A slip of your hand on a relatively easy skill that you've done countless times before, (toe-on on high bar,) has left you lying awkwardly on the mats, dazed and broken.  Your season is over before it has even begun; and darn! Your elbow really hurts!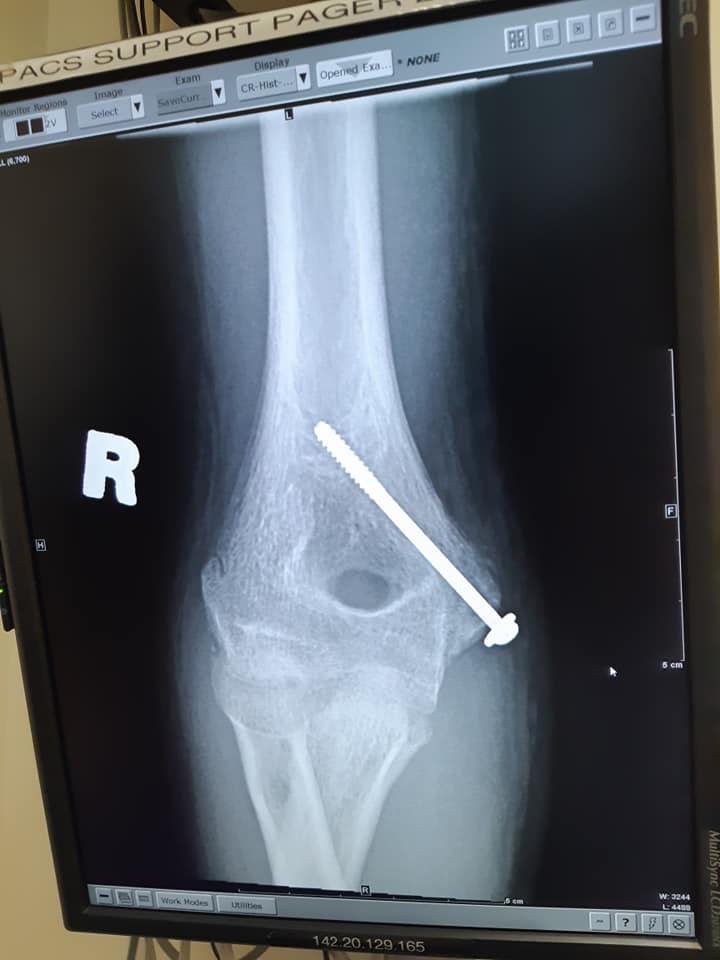 Days in the gym don't get much harder than that, but they do put a spotlight on those who are true champions at heart.  A debilitating injury, like a broken and dislocated elbow, can easily be devastating both physically and mentally, but not for 13 year old, OGC WAG athlete, Freya Stevenson.  Freya, who is recognized by both teammates and coaches alike as a very supportive and hard working teammate, as well as a kind and thoughtful individual, has not let this unfortunate incident get her down in any way.
Immediately upon waking from surgery, during which they realigned and reconnected the bone with a large screw, this gracious young woman promptly thanked the medical staff for taking such good care of her.  She didn't lament the loss of her season, or complain about the injustice of it or even the pain.  Being the genuinely "nice" and good natured kid that she is, she simply expressed her gratitude and began the process of recovery.
While her easy going attitude makes it seem as if this whole episode was just another day in the life of a gymnast, the truth is, for Freya, something of this nature actually has the potential to be quite complicated with serious outcomes.  Freya has a rare blood condition called Immune Thrombocytopenic Purpura (ITP).  It is a bleeding disorder in which the immune system destroys the platelets that are necessary for normal blood clotting.  Freya has an excessively low platelet count, even for people with this condition, elevating her risk of excessive bleeding in the event of ANY injury, especially surgery.  This required her to have a platelet injection before the bones could be surgically re-connected in an attempt to control the clotting process.
Even this didn't seem to really faze her.  Freya was admittedly a bit concerned about how she would react to being put under. She  witnessed her brother's reaction a few years earlier when he suffered his own arm injury and underwent surgery, which gave her some reason for concern.  However, despite being put out multiple times in their attempts to manipulate and set the bones properly, Freya remained characteristically calm and composed throughout the entire ordeal, proving just how brave and mentally strong she really is.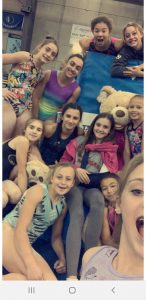 It is unknown when or how Freya developed ITP and aside from the easy bruising, she doesn't behave or react to the disease like a typical patient.  Most people with this disorder lack energy, do not feel well, suffer bleeding into the skin and have nosebleeds or bleeding gums.  Freya does not.  Her energy levels are high, her immune resistance strong and her athletic ability unprecedented.  She simply does not allow herself to be bound by the so-called rules of her situation.
"We didn't want to put her in a bubble," says her mother Sherry about the diagnosis.  Freya has to be extra careful, especially with her head, but to take away gymnastics or adventure travel or any of the physical activities she enjoys, would be taking away a large part of what makes her Freya Stevenson.  She is too big a personality, too outgoing, too adventurous and too engaged with everything life has to offer to hide away because of a diagnosis.
This makes typical treatment for the condition unsuitable as well.  While young children with ITP often outgrow it, the only real course of action for older patients is steroids and in some cases, removal of the spleen.  Steroids however result in severe weight gain and changes in attitude and behaviour,  so the family has decided to explore traditional Chinese medicine in their search for a treatment.  With her usual willingness to try anything, Freya has consumed various concoctions of herbs and other unusual ingredients that most of us would cringe at, with some success.  Unfortunately, it is uncertain which of the many ingredients of her special soups had a positive effect on her platelet count, so now that her arm has healed, she will resume that course of investigation.
For the last six months though, Freya has been focusing on her injury recovery, not on her ITP.  She hits the gym every day with unwavering dedication, working herself back to being competition ready.  "Everything is completely self-driven with this sport.  It's important that the drive comes from them," says Freya's dad, Jan.  "You can't make these kids do it.  They have to w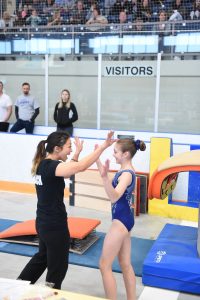 ant it."   To watch her tireless commitment, it is obvious that Freya really wants it.  She is many things, but above all, she is a gymnast.
According to Coach Sandra, Freya "has always been a hard worker, but since her arm injury earlier this year, she has fought back harder than ever before to get herself back on track and in shape, eager to get back into competition mode.  She is never caught slacking, chatting or goofing around and has been so independent with her rehab and individual programming, working hard to complete it daily.  We are very proud of how far she has come along in the short period of time since her surgery."  Mother, Sherry echoes the coach's comments.
"She has exceeded our expectations, whatever they were.  She has developed focus, maturity…"  Pride radiates from Sherry as she thinks about how to finish her statement.  "…She's funny, thoughtful, and just a nice kid."
"I think she rocks!" chimes in Jan.  "She's a cool, fun, caring, strong person."  While she is unquestionably an amazing gymnast, it is these kind of personal traits that everyone focuses on when they describe "Nerms" or "Nermal" as they all seem to call her.  Teammate Seren's immediate response when asked to describe her friend, was "kind and generous".  Adjectives that quickly followed were "encouraging and supportive," as illustrated at the Ottawa WAG qualifier when Freya excitedly embraced Seren the instant she stepped off floor, congratulating her for sticking new skills in her routine.  Freya's enthusiasm and happiness could be felt all the way to the bleachers, proving conclusively, that while she is a fierce competitor, she is an even greater supporter of her team and friends, celebrating each of their successes and triumphs with them as if they were her own.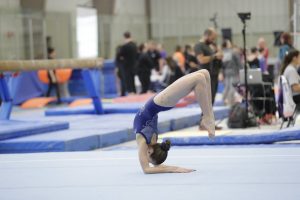 Sitting on the sidelines all season can be difficult for an athlete.  Freya has remained remarkably positive though.  She admits that it was hard at first, just conditioning day in and day out, but she is extremely motivated to work hard and get her skills back.  "My parents inspire me, and my coaches for sure," she says.  "They push me to work hard, but not over the limit."  They don't have to, because being a perfectionist, Freya pushes herself to always be her best.
One of the things she finds most difficult about gymnastics though,  is keeping up the skills and consistency and being patient when it comes to obtaining new skills. She puts a lot of pressure on herself, but she also takes her own advice to just "keep working hard; earn the coaches' respect and the rest will come".  It's this type of attitude that earned her the 2019 WAG Most Dedicated Gymnast Award.  It's also one of her greatest strengths.
Freya has been a gymnast for 10 years.  She started at Gold Medal with Coach Aleks, went to Futures with Coach Lena at the age of 9 and has been at OGC for the last three years.  Gymnastics is her first love.  She tried other sports like hockey, soccer, tennis and swimming, but nothing else stuck.
Her favourite event changes according to the skill set she is currently working on and right now, believe it or not, her preference is for bars.  Getting back on bars for the first time wasn't scary for her in the least.  Freya is fearless and puts her faith in the coaches.  She used to be a bit emotional, but "maturity has kicked in", as her mother says, and she tries not to stress out about anything.  She takes things day by day and has developed a strong communication-based relationship with her coaches which has helped solidify her confidence and given her a sense of control with her training.  So getting back on bars wasn't a bit deal for her.  She hasn't done the toe-on again yet, but it's coming, and her teammates will all be there to cheer her on when she does.  Perhaps that is why the thing she loves most about gymnastics, is her coaches and teammates.
Another favourite is her Gainer off beam.  "It's easy," she says.  "I just fling myself off" – into a backwards somersault while still moving forward and avoiding slamming her head into the end of the beam.  Yeah…easy.
With everything she has been through, all of the awards she has won, etc., I was curious as to what Freya considered to be her greatest gymnastics achievement so far.  Surprisingly, she didn't even think about any of her past accolades.  Instead, it was "getting my Level 9 this year, even though I didn't get to compete it".  It is the progression that matters to her; always moving forward.  For Freya, the past is past, the medals are put away.  She is looking forward to the next challenges and to reaching her next goals.  For the 2020/2021 season, these include getting back all of her Level 9 skills and maybe even some higher level tricks.  She plans to focus on back handspring-back tuck on beam and she really wants that toe-on on high bar.  It will NOT get the better of her!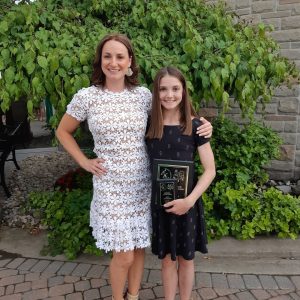 When not in the gym, Freya and her family are avid travelers.  They love the outdoors and spend extended periods hiking mountain ranges, exploring rainforests and training everywhere they go.  Mom is a former gymnast and CrossFit enthusiast.  Dad is a certified gymnastics coach and fitness guru and brother Zachary is a high level MAG athlete.  Consequently, Freya has had the opportunity to train with her father and local club coaches in amazing locations including New Zealand, France, Mexico, Costa Rica and Japan.
While on an amazing six-month backpacking trip around the Pacific at the age of eight, the family not only met, but were invited to train with Japan's seven-time Olympic medalist, Kohei Uchimura, and the entire Japanese National Team.  Freya was interviewed on Japanese television with Kohei about the experience.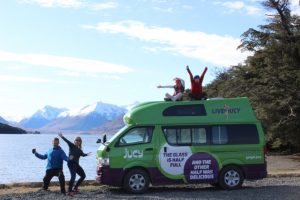 Other amazing highlights included volcanoes, caves, waterfalls, sand boarding, helicopter rides and 5-day long hiking trips through varying terrain and so much more!  Truly an inspiring adventure.  The best part of it though, according to Freya, was the stop in Fiji where she was able to help care for baby turtles.  She has a soft spot for animals.
Milo, her little Havanese puppy, has enjoyed having Freya around a bit more since she has been on modified training.  Freya has been able to spend more time with him and has also enjoyed being able to watch more of her favourite television show, Grey's Anatomy.  She has also developed new talents and passions.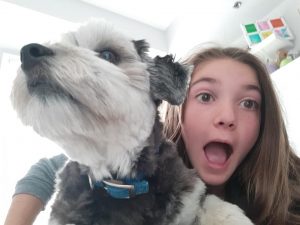 In the summer, Freya began to paint and discovered that she not only loves it, but she is she really good at it!.  It is a relaxing way for her to relieve stress.  Bob Ross tutorials that she found online have been instrumental in the development of her skills.  The two of them share a passion for the outdoors, which inspires many of their works.  Mountains, like those she has conquered on her trips, are Freya's favourite subject to paint, but she doesn't limit herself to landscapes.  She has experimented with numerous muses and styles and spends a great deal of time on the weekends with her canvases.  It is not unusual for her to disappear for 4-5 hours at a time, engaged in creating her beautiful works of art. Check out her Instagram, @freyaspaintings to view her amazing creations.  They are fantastic!
Painting is definitely something Freya will continue to pursue into the future.  In fact, she sees herself building a career as an artist of some sort; either as a painter, a journalist or writer.  Whatever she decides to do, her strong work ethic, her upbeat attitude, her adaptability and her positive nature will all lead her to success.
In the meantime, the 25 hour group is thrilled to have this brave and kind hearted athlete back  in full force, preparing for the 2020/2021 season.  She truly is an inspirational individual who knows how to rise above her circumstances and refuse to let the little bumps in life get her down.