Quinn Perron may be a relatively new member of Oakville Gymnastics Club, but he is definitely not new to Men's Artistic Gymnastics. From a very young age, Quinn was doing somersaults and cartwheels and jumping off furniture! It comes as no surprise that Quinn, at age 4, was enrolled in recreational gymnastics in Guelph, where his family still resides. This would mark the starting point of Quinn's journey around Southern Ontario for his love of gymnastics.
Quinn's next stop was Cambridge Kips, as they offered more recreational programs for boys.  Like so many parents of talented young athletes, Quinn's parents faced many roadblocks in terms of finding a club that would have a gymnastics program that would challenge their son and that would also be within a reasonable travel distance from home.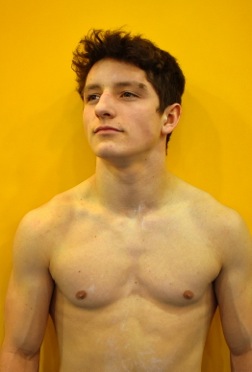 At age 10, Quinn's uncle, who was a coach for the men's artistic program in Burlington, suggested he try out for their competitive team.  With the support of his family, Quinn made the team and travelled to practices with his uncle.
Now at 17, Quinn not only balances the demands of Grade 12 at John F Ross C.V.I. in Guelph with his training schedule, but also manages the long drive to Oakville Gym by himself!
Quinn is a dedicated gymnast whose positive attitude and "stick-to-it" mindset are noticeable to both coaches and teammates alike. Quinn credits his first competitive coach, Yale Holmberg, for helping to strengthen his dedication to the sport. Yale's own enthusiasm and belief that Quinn had a talent that was worth nurturing played a vital role in Quinn's development as an athlete.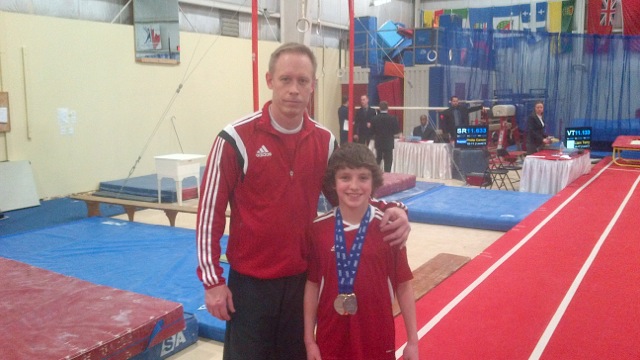 Even now, when Quinn is struggling with a move he remains determined not to give in to frustration, or to let things bring him down. He takes training seriously and strives to make the most of his time at the gym. Quinn consistently works hard, putting in many repetitions to get over the humps! An achievement that stands out for Quinn is when he finally got his iron cross on rings!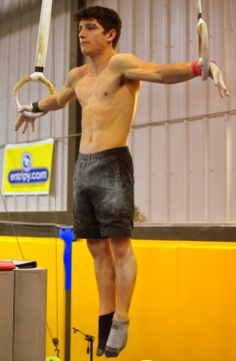 Quinn enjoys training with Coach Jason and the senior members of the MAG team, Evan and Andrew. With Quinn as a driving force, they constantly encourage and push each other to test their limits and try new things, while supporting each other through their struggles.
What was his most memorable achievement in competition? Quinn shared that it was when he came in 1st on Floor at Provincials last year! Surprisingly, this provincial gold medal meant more to him than all his other past achievements because Floor is his favourite of all six MAG events!  Be sure to watch for Quinn on Floor as he works on a new skill – a whip double pike half out!
The 2018 MAG 1st Ontario Cup is taking place the weekend of December 7-9, in Windsor. For some of Oakville's younger athletes, this will be their first provincial level competition. To them, Quinn offers the following advice on how best to face a competition:
"Try not to worry about coming in first place, but focus on doing your own personal best.  At first, competitions are more for practice, and if things don't go as you hope, remember there's always next time!"
This season, Quinn is hoping to place in the Top 6 in the National Open (14+) Division, at Provincials. He has also been invited to participate in the 2019 Canada Winter Games Trials on December 7, 2018 in Windsor. After two selection meets, only 6 athletes will be chosen to represent Team Ontario in Red Deer, Alberta, from February 15 to March 3, 2019. This event is Canada's largest national multi-sport competition, and only happens once every four years! For more information, visit https://www.canadagames.ca/2019/.
What's one word we can use to describe Quinn?
Driven!