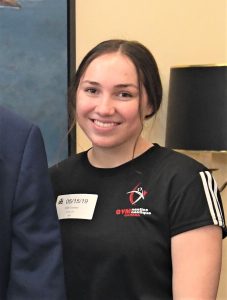 Congratulations to Erin Oswald on receiving the Gymnastics Ontario Coach of the Year Award for Grass Roots Level coaching of Acrobatic Gymnastics.
Erin has been with Oakville Gymnastics Club since she was a little girl.  While in the recreational gymnastics program Erin was invited to join the early days of the competitive Acrobatic Gymnastics team.  Erin worked her way up the competitive levels as an athlete competing at several World Age Group Championships as part of Team Canada.
Erin retired from competition and began coaching both recreational and competitive Acrobatic Gymnastics.  Her wealth of knowledge and experience along with her excellent communication skills made her a natural coach.  Under her attentive eye Erin's young acrobats flourished, achieving many successes in our local Ontario Cups and as part of Team Ontario's Travel Team.  Congratulations to Erin on her early success as a coach and we thank her for having elevated the quality of our grass roots acrobatic gymnastics programs here at OGC.